Blog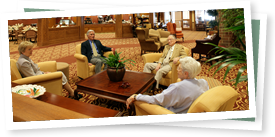 It seems we can't find what you're looking for. Perhaps searching can help.
Categories
Archives
We had been familiar with Sherwood Oaks almost from its opening. We knew it to be a high-quality place to live in retirement. I think of it as a secure future and gift for your children.

-
Residents since 2010
Continuing Care
You may not need health care now, but it's a good idea to secure it for your future.
Learn More
Why Move Now?
Click here to see 10 reasons why you should move now.
Learn More