Thank You!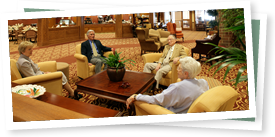 Just do it! And soon enough so you have time to make new friends and enjoy everything that Sherwood Oaks has to offer.

- Joe and Mimi Fleming
Residents since 2012
Continuing Care
You may not need health care now, but it's a good idea to secure it for your future.
Learn More
Why Move Now?
Click here to see 10 reasons why you should move now.
Learn More